KITCHEN INSTALLATION IN GLASGOW & WEST CENTRAL SCOTLAND
KITCHEN INSTALLATION SERVICE
GET A QUOTE
Kitchen Installation Throughout Glasgow and West Central Scotland
Fixed Price Fitting Including All Joinery, Plumbing, Electrical, Plastering, Tiling & Decorating Work. Over 40 Years Experience Within The Kitchen Installation Industry. We also offer a free design and quotation to supply your kitchen and won't be beaten on price on a like for like kitchen.
Choosing a new kitchen can be a crucial decision, as it often serves as the heart of a home. The Kitchen Installer simplifies this process by providing you with the level of choice and quality you can only expect from a seasoned independent kitchen installer in Stafford. Let us make your decision easier.
Installation of All Major Kitchen Brands

At The Kitchen Installer, we believe that the heart of any home is the kitchen. That's why we specialise in the installation of all major fitted kitchen brands including Wren, B&Q, Wickes, IKEA, Howdens, Homebase and Magnet Kitchens, ensuring that you have access to the best quality and most innovative products on the market.

Our expert installers work closely with you to design and install a fitted kitchen that is tailored to your individual needs and preferences. We take great care to ensure that every aspect of your new kitchen is seamlessly integrated into your home, from the cabinets and countertops to the appliances and lighting.

We understand that choosing the right kitchen can be overwhelming, which is why we offer a wide range of styles, finishes, and features to suit every taste and budget. Whether you prefer a traditional country-style kitchen or a sleek, modern design, we have the expertise and resources to bring your vision to life.

So if you're looking to transform your kitchen into a functional and stylish space that you'll love for years to come, look no further than The Kitchen Installer. Contact us today to schedule a consultation and start your journey to a brand new fitted kitchen.
Full-service kitchen installation from start to finish
The Kitchen Installer are a company that specialises in providing high-quality kitchen design services and kitchen installations. We understand that the kitchen is an essential part of any home, and it's important to have a well-designed and functional space to prepare and enjoy meals. Our team of experienced professionals are dedicated to helping customers create their dream kitchen, from the initial design stages to the final installation process.

When you choose The Kitchen Installer, you can rest assured that you're working with a team of experts who are passionate about what they do. We have years of experience in the industry and have helped countless customers to transform their kitchens into beautiful and functional spaces. We use only the highest quality materials and products, ensuring that your kitchen is not only stunning but also durable and long-lasting.
Qualified and experienced kitchen fitters
Our qualified and experienced kitchen fitters are a popular choice among customers who are purchasing a new kitchen from The Kitchen Installer. We take care of the entire installation process from start to finish, so you don't have to worry about anything. Our team handles everything, including removing old units, fitting new ones, installing sinks and cupboards, and wiring up appliances. We also dispose of any debris, so your home remains tidy and clutter-free.

At The Kitchen Installer, we understand that kitchen fitting can be a tricky job, and many things can go wrong if you're not experienced. That's why we have a team of fully qualified kitchen fitters who have years of experience and knowledge. They will handle everything with precision and care, ensuring that your kitchen is installed correctly and to the highest standards.
Affordable and competitive pricing on all kitchen installations
Our kitchen fitting service is quick and efficient. We aim to complete all kitchen fittings within four to six weeks and our pricing is affordable and competitive. We know that your kitchen is the heart of your home, and we work as efficiently as possible to minimise disruption to you and your family. We want you to be completely satisfied with our work, and that's why we offer a guarantee for all our kitchen installations. If you have any issues or problems, we're always on hand to help and fix them straight away.

Our kitchen design experts are available to help you create your dream kitchen. So, whether you're looking for a modern, contemporary kitchen or a classic, traditional design, we're here to help. Contact us today to learn more or to book an appointment with one of our experts.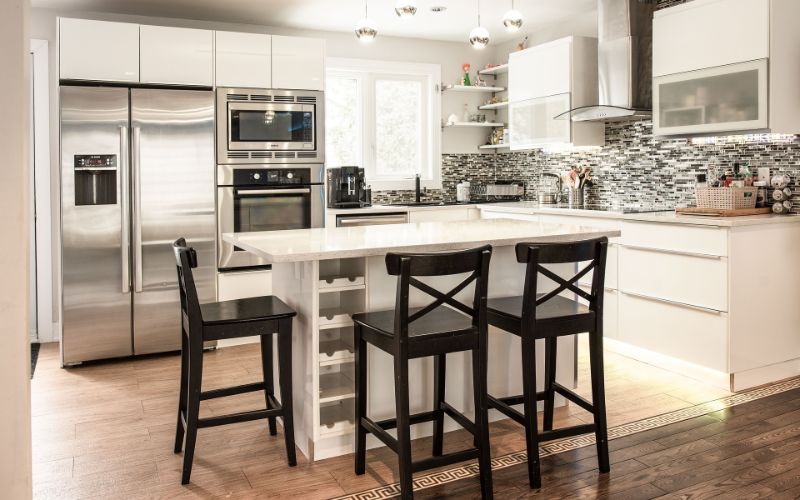 At The Kitchen Installer, we provide comprehensive kitchen project management services. From start to finish, we will be there to assist with every aspect of your kitchen project. Our team will work closely with you to design the kitchen of your dreams, as well as the building and installation to ensure that every detail is executed flawlessly. You can relax knowing that all aspects of your kitchen project are in good hands.
GET A QUOTE FROM US TODAY
Kitchen Installation Testimonials
Read through some of our testimonials below
"True professionals"

I couldn't be happier with my new fitted kitchen! The installation team did an amazing job and worked quickly and efficiently. It's transformed the look and feel of my home.
Oliver Brown, Glasgow
"Strongly recommended"

The Kitchen Installer helped me to create a fitted kitchen design that was perfect for my needs. The installation was quick and hassle-free, and the end result is absolutely stunning.
Mrs Wright, Edinburgh
"Outstanding work!"

The installation team were brilliant - they worked really hard and paid so much attention to detail. The quality of the workmanship is second to none. I'm really impressed!
Callum Taylor, East Kilbride